You have just a few days to obtain a pre-publication printed copy of my new book, Tennessee Wrongful Death Law at a substantial discount.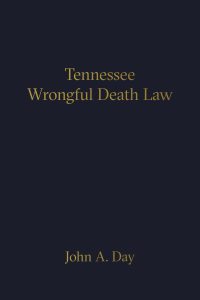 The book is Tennessee's only comprehensive treatise on the law of wrongful death.  It has 82 sections and cites hundreds of Tennessee cases.
Click on this link and scroll down to see the Table of Contents.
We are accepting pre-orders for a print version of the book.  Very few "extra" printed copies will be produced (I don't want maintain an inventory of physical books); instead,  it will be made available only by e-book subscription on BirdDog Law.  Thus, if you prefer to use a traditional printed book rather than an e-book, now is the time to order one because the print order will be made on January 23, 2023.  Purchasers can expect to receive the printed book by mail before March 15.
Click on this link to take advantage of the pre-publication discount.
After this sale, the printed version of the book will be $199.99, plus sales tax and S & H.  If you order it by 5:00 pm CT on January 20, 2023, you pay only $139.99, a savings of $60.00 (plus sales tax and S & H).
Those people who have a printed copy of the book will also receive free access to the e-book edition on BirdDog Law until June 1, 2024.  The e-book will be updated as new decisions are released and new statutes are enacted, so you will get the benefit of the updating capability that an e-book provides.