BirdDog Law is the leading resource center for Tennessee trial lawyers and paralegals.  Among the free information included on the site is 95 databases, one for each county in Tennessee, which contain information about the court system in each county.   In addition to information about court clerks, local rules, local forms, and more, each county's database includes information about tort jury and non-jury trials.  Here is the information for Williamson County, Tennessee: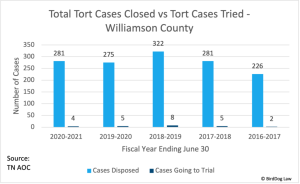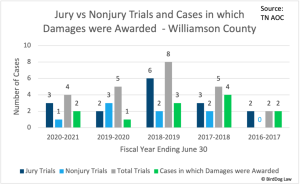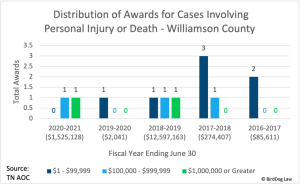 Thus, readers can see that in Williamson County for the five year period ending June 30, 2021 (the most recent date statistics are available  (a) there have been only fourteen jury trials; (b) eight nonjury trials; (c) of those twenty-two trials the plaintiff has been awarded damages in twelve of them, which in turn tells us that (d) the defense outright won ten of the twenty-two trials.
For more information about personal injury and wrongful death trials in your county, click here, go to the "Court and Other Information for Each of Tennessee's 95 Counties bar, find your county, and look under the "Case Statistics" tab.